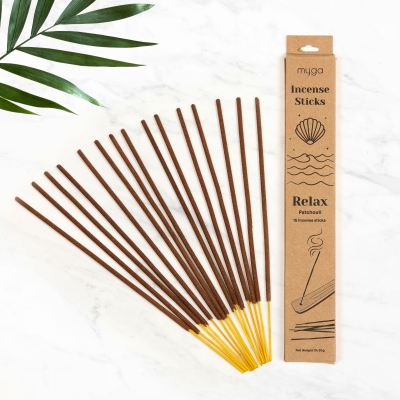 Product Story

Myga's incense sticks are wrapped in eco-friendly butter paper and then packed in a recyclable paper box. Each incense is created with unique natural extracts and herbs and hand rolled onto bamboo sticks.

A package contains 15 sticks and can be used in yoga, meditation or as a natural room fragrance. A stick can be lit several times depending how strong you prefer the aroma.

Myga's range of incense sticks offer an exciting variety from traditional and oriental sandalwood and patchouli to spicy cinnamon, warm and sweet vanilla, to exotic florals and woody notes such as pine.



PATCHOULI

Patchouli smells of a combination of musk and earth and is know to create clarity and calm while also promoting concentration. Patchouli incense sticks are very popular for prayer and meditation. The word patchouli is derived from an old Indian language, Tamil. The word means 'green leaf.'



Features

- Handmade in India
- Natural product
- Non-toxic, vegan, zero plastic
- Without petrochemical additives
- For rituals, cleansing, home fragrance
- Used in Meditation and Yoga
- Clears negative energy
- Creates a relaxing atmosphere
- Highest quality ingredients to offer long lasting fragrance



Specifications

Length: approx. 20,3cm/8inch including bamboo stick
Net weight: approx. 19-20g
Incense sticks per package: 15
Burning time per stick: 20-25min



Materials

Wood powder, joss powder, bamboo sticks & natural fragrance.
Colour incense sticks: Brown



Care & Use

Place the incense stick either in an incense burner/ash catcher or hold it in your hand. Light the incense until it is immersed in the flame. Allow the flame to burn for a few seconds before you gently blow or fan out the flame.

Do not leave the incense unattended.

To extinguish the incense stick, press it against a heat-resistant surface.
Technical Information
SKU: