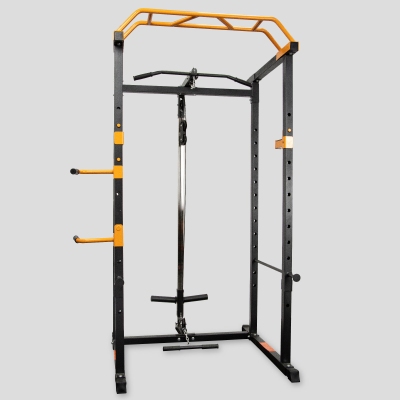 The Phoenix Fitness Power Rack is a great piece of equipment for beginners starting their fitness journey all the way through to experts that are looking to take their workout to the next level. Our Power Rack is a great all-rounder to provide you with a variety of workouts, benefitting all major muscle groups.

Features
- 13 Adjustable Levels
- Cable Pulley System
- Straight Bar
- Wide Lat Pull Down Bar
- J-Cups
- Spotter Arms
- Multi-Grip Pull Up Bars
- Dip Bars
The Power Rack provides a great setup for working out safely at home and is suitable for a wide range of exercises, including front and back squats, bench press, dips, rows and much more.
Browse through our catalogue where you will find complimenting accessories, including Olympic Weight Plates, Olympic Bars, Benches and Heavy-Duty Floor Mats!

Great For
Deadlifts, bench press, back squats, front squats, shoulder press, bicep curls, lat pulls, rows, dips, pull ups and more.

Please Note
Weight Plates are sold separately.

Technical Specification
- Material: Carbon Steel
- Maximum Load: 250kg