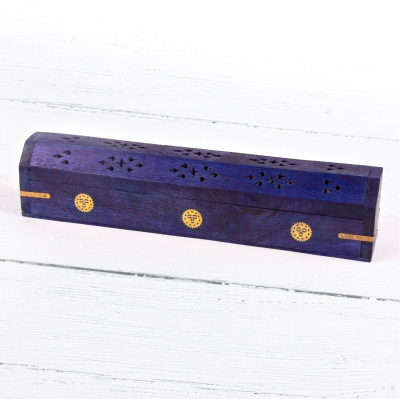 A beautiful wooden box carved into an incense storage ornament. The decorative box holds one piece of burning incense stick or cone at a time, making it an eye-catching piece of art while the fragrance rises gently through the many cutouts in the shape of diamonds.
Very easy to clean. Use it in your meditation, yoga practice, any ceremony or as a beautiful decor in your home.

Features
With a storage compartment
2 incense cone slots
1 incense stick slot
Handcrafted in India
Catches the ash
Beautiful home decor
Used in Meditation and Yoga
Zero plastic
Eco-friendly packaging
Sustainably focused

Material
Mango wood and metal brass fixings.
Symbol: Sun
Colour: Purple

Care Instructions
Wipe it occasionally with warm water to remove dust and grime. Immediately dry it with another cloth.