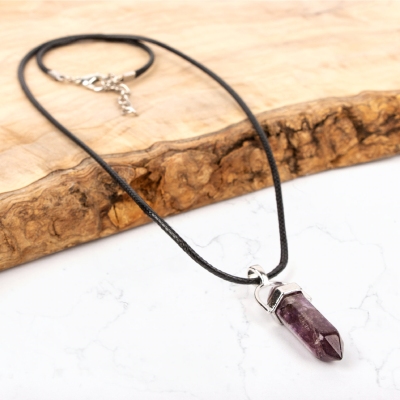 Wear this necklace everyday to activate spiritual awareness. Amethyst acts as a natural tranquilliser and alleviates sadness and dissolves negativity.
The crystal as representation of purification and connection to spiritual and divine beings. It protects the wearer from all types of harm and ill wishes from others.

Material
- Waxed bootlace cord.
- Zinc alloy metal holder.
- Synthetic Amethyst crystal.

Features
Hexagonal point
Amethyst synthetic pendant
Crab claw clasp closure
Stable, durable and reliable material
Thoughtful gift for your families and friends for any occasion
Compostable Packaging

Use & Care
Do not shower or swim when wearing your necklace. Keep it dry. To maintain your jewellery, wipe gently with a damp cloth that is soft and clean. Avoid contact with soaps, detergents, perfume or hair spray.
Technical Information
SKU: RY1583
Barcode: 5029476015832
Carton Quantity: 12
Carton Size: Height (cm): 3
Carton Size: Length (cm): 31
Carton Size: Width (cm): 15
Carton Weight (kg): 0.21
Coms Code: 71162011
FOB MOQ: 504
Port: NINGBO
RRP: £5.99