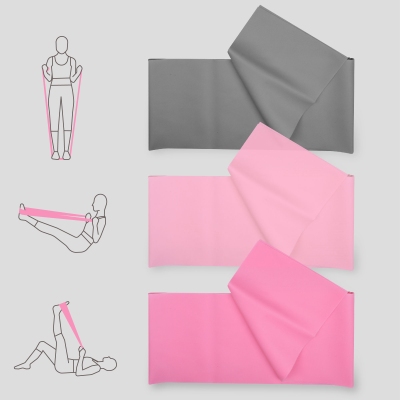 Our Phoenix Fitness stretch pink resistance bands help you to build and strengthen muscles.
The pack contains three different resistance strength bands ranging from light, to medium and heavy allowing you to increase your resistance depending on what area you are focusing on training. Our resistance bands are great to use whether you need a resistance band for rehabilitation or strength training.
Yoga resistance bands are a great way to mix up your training whether you need to recover or increase the strength in a muscle. You can perform a selection of workout moves with our resistance bands which target shoulders, back, hamstrings and thighs.
These cost-effective, flexible bands allow you to stick to your exercise routine even when time and space is limited, can be used in the gym, at home and even on holiday.
Ideal for Pilates and strength training, simple to use: Wrap the bands around your wrists, arms, ankles and so on to sculpt and tone muscles; choose bands with different resistance
levels for different intensity of trainings; you can do almost any exercise that you would do with weights using these bands. Latex free.
Technical Information
SKU: RY1550
Barcode: 5029476015504
Carton CBM: 0.015372
Carton Quantity: 12
Carton Size: Height (cm): 14
Carton Size: Length (cm): 36
Carton Size: Width (cm): 30.5
Carton Weight (kg): 3.5
Coms Code: 95069190
FOB MOQ: 3000
Port: NINGBO
RRP: £0.00