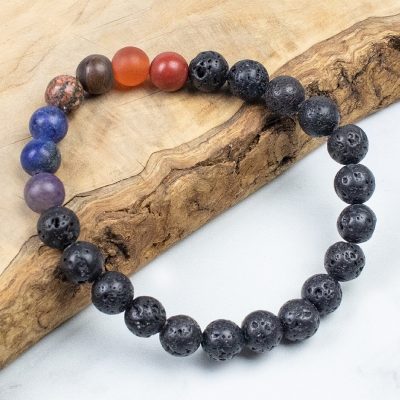 'Strengthen and ground your connection to the earth to allow stability in times of change.'
This bracelet is able to strenghten, and ground your connect to the world around you, especially amazing throughout any transitional changes. It features 7 Crystals and Lava stone. Lava stone is a grounding stone that strengthens the connection to Mother Earth, it sheds any unnecessary emotions and unhealthy attachments by encouraging calmness.
The 7 coloured crystals aid towards the 7 chakras in our body, all of which are carefully carved to make the perfect sphere, showing the natural patterns and colourings within each unique crystal. The 7 crystals used within this necklace are all known for different healing and strengthening properties;
Muladhara (brown coloured stone) is used to block any feelings of fear and is responsible for the survival instinct. It gives us our sense of groundedness and security, as well as the feelings of safety and stability.
Swadhisthana (orange coloured stone), this chakra is linked to the mind and blocks any feelings of guilt, it is a centre of reasoning and intellect.
Manipura (yellow coloured stone) is the centre of the willpower, once unblocked you will be able to control your energy, discipline and endurance.
Vishudha (blue stone), is the best stone for communication and self expression, this will help you on your journey to create your negative experiences and transform them into wisdom and learning.
Ajna (lighter blue/green coloured stone) It is a centre for power of conception, but it also has the potential of developing Divine sight, sensitivity and clairvoyance, once unblocked it can help to distinguish pride and intellectual arrogance.
Sahasara (purple coloured stone) is essentially the spiritual self, it is associated with the pursuit of spiritual peace, and connecting to higher consciousness or state of being.
Our jewellery range are all presented in a cotton draw string bag, which is then displayed in a beautiful pinewood carved box. Inside the box is also a small information booklet, which allows the recipient to see what stones they have received, and the meaning behind their beaded necklace.
Choose yoga jewellery from the Myga range, from Chakra, Om and Lotus themes, malas, necklaces, pendants, bracelets and more.