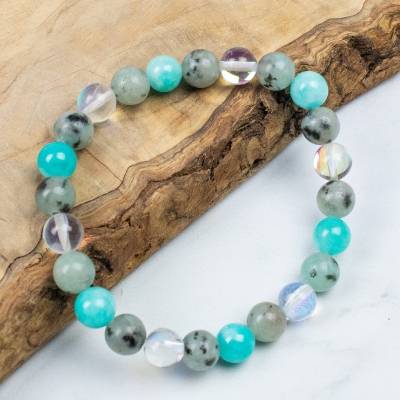 'Enhance your intuition and creativity by healing negative emotions.'
Our Courage bracelet has been carefully put together, to help you on your journey of self-healing any negativity that may surround your life.
There are two types of natural materials used in the bracelet, green gemstones, and glass beads. The green gemstones used represent the colour of nature, renewal, growth, harmony and balance. They are know to be great balancers of emotions, and can help to strengthen the connection between your heart and mind.
Our jewellery range are all presented in a cotton draw string bag, which is then displayed in a beautiful pinewood carved box. Inside the box is also a small information booklet, which allows the recipient to see what stones they have received, and the meaning behind their chosen bracelet.
Choose yoga jewellery from the Myga range, from Chakra, Om and Lotus themes, malas, necklaces, pendants, bracelets and more.