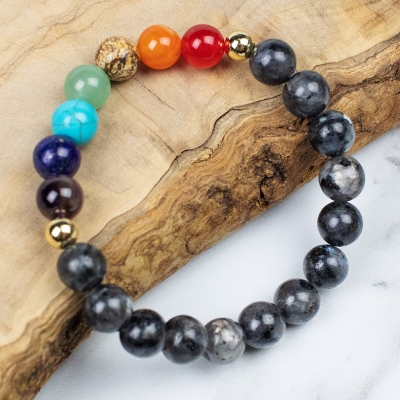 'Boost harmonious thinking and raise consciousness to reconnect to your inner self'
Myga's Clarity Beaded Bracelet has carefully created to bring a ray of light and hope when wearing, it raises consciousness and connects with universal energies around us. Using vibrational frequency it is able to deflect unwanted energy, being a strong barrier to negative energies around us. It has properties to bring the art of 'right timing' to life, bringing messages from the unconscious mind to the surface.
Our Clarity bead has 8 different Crystal's/Gemstones, the main one being Labradorite (black coloured stone), and then the 7 coloured chakras. Each crystal holds different healing properties, all of which will help you on your journey of transformation, and raising consciousness. Preparing the body mentally for strength, perseverance and progression.
The stones are all completely unique and carved into spheres, they are placed onto an elasticated band, which can confidently stretch without breaking, to fit on most wrist sizes comfortably.
Our jewellery range are all presented in a cotton draw string bag, which is then displayed in a beautiful pinewood carved box. Inside the box is also a small information booklet, which allows the recipient to see what stones they have received, and the meaning behind their chosen bracelet.