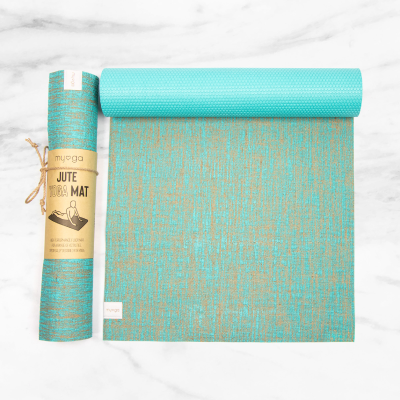 Be supported in your yoga practice with the beautiful high quality Jute yoga mat. With its edgy grip of natural jute fibres and 5 mm thickness, it makes it a strong and sustainable mat providing the perfect amount of cushioning, ideal for Vinyasa flows, Hatha, Yin and Restorative Yoga.
This mat feels great under your hands and feet and gives you a supportive and earthy feeling.
Jute is known for its strong, breathable and environmentally friendly properties.
Available in 6 colours: Black, Blue, Plum, Purple, White & Aqua.

Features

100% vegan natural jute fibres
Latex and chemical free
Brilliant grip due the jute fibres
Natural anti-microbial properties
Protects against hard floors
Anti-slip and supportive
Easy to roll up

Material
Colour: Aqua
Top: Natural jute plant fibres which are heat bonded
Bottom: PVC

Care Instructions
To clean, roll out flat and wipe down with warm soapy water, leave out until the surface is dry and roll up as usual. Avoid leaving the mat in the sun for prolonged periods and avoid exposing your mat to extreme temperatures.