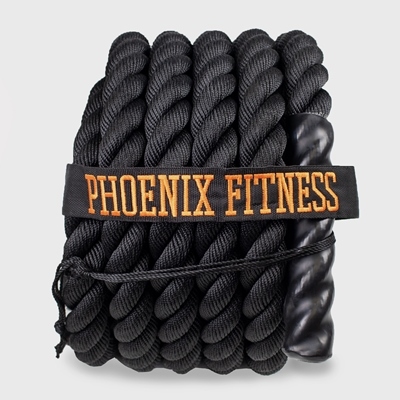 Battle ropes offer a welcome reprieve from the drudgery of treadmill cardio sessions. Use this fat-burning workout to sweat yourself leaner and fitter!
Battle ropes are a great conditioning tool that provide a full body workout increasing muscular endurance and cardiovascular conditioning.
Durable and Wear-resistant: made of high quality poly-twine construction ensure ultimate durability.
Phoenix Fitness Battle Rope comes with heat shrink caps on the ends to improve the grip and protect you hand from friction.
Battle Ropes provides a full body workout. Perfect for anyone looking forward to taking their physical fitness to a new level, applicable: for crossfit, fitness training, athlete, boxing and HIIT.
Battle Rope workouts can strengthen your abs, arms, shoulders, legs, burn fat, build stamina. Also it can improve your endurance of shoulders, increase reaction time & raise your metabolic rate.
Battle Ropes are designed with 100% heavy duty polyester material; it is durable for long-term usage.
Length: 18 feet
Diameter: 1.5 inches
Technical Information
SKU: RY1096
Barcode: 5029476010967
Carton CBM: 0.024576
Carton Quantity: 1
Carton Size: Height (cm): 24
Carton Size: Length (cm): 32
Carton Size: Width (cm): 32
Carton Weight (kg): 8.7
Coms Code: 95069190
FOB MOQ: 1000
Port: NINGBO
RRP: £74.99