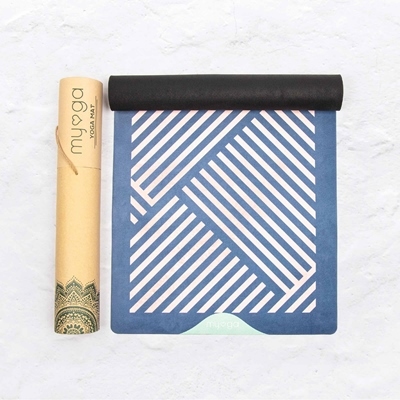 A pattern with a bold geometric design that reflects modern beauty and encourages you to see your own.
Beautifully designed to help you find your space and remember your true nature this stylish mat is has a soft vegan suede top layer, delicate on touch and a rubber tree bottom providing stability on any surface.
Created for high performance, the velvety top layer increases grip the more you sweat and its surface will naturally become rougher with every use. Don't worry if you are not a sweater, just spray, splash or wet your mat with water for a super, anti-slip function which gets activated when the surface gets damp.
Although this mat is great for all yoga practices or workouts, it ideal for Hot Yoga/Bikram, Power, Ashtanga and other dynamic practices. Easy to roll up, steady on the floor or on top of another yoga mat for extra cushioning and portable for instant use anywhere.

Material
Top Surface: Microfibre Vegan Suede
Bottom Surface: Natural Foam Rubber

Features
Premium design
Multi-purpose
Non-slip microfibre vegan suede
High grip base from natural rubber

Grip Tip
Your new mat might be a bit slippery the first time - don't worry! Just like your new pair of jeans or shoes, your mat gets better the more you use it. Spray, wet or splash your mat with water for a super grip.

Care & Use
This mat is very easy to clean with a soft cloth and water whenever needed or machine washable in cold water, gentle cycle and no bleach. Hang to dry.
Our products are consciously packaged using eco-friendly materials without plastic.
Technical Information
SKU: RY1041
Barcode: 5029476010417
Carton Quantity: 6
Carton Size: Height (cm): 37
Carton Size: Length (cm): 34.7
Carton Size: Width (cm): 23
Carton Weight (kg): 15.89
Coms Code: 95069190
FOB MOQ: 204
Port: NINGBO
RRP: £39.99